VERBUND- Energy World Malta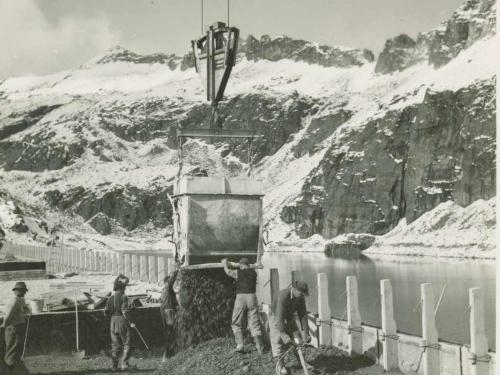 ... simply interactive!
In the "Verbund Energiewelt Malta" two new permanent exhibitions will be presented under the title "
Wasser Kraft Mensch"
from the 25th of May 2018.
Reißeck - a pioneer project
of the Second Republic
From manual work to mechanization. Image documents for the development of power plant construction in the 1950s into one of the most powerful hydropower plant groups in Europe - Reißeck II
See the construction of the Kölnbreinsperre
in historical photographs, and the
Alpe Adria Collection,
a comprehensive printmaking collection of the former Austrian Draukraftwerke, today
VERBUND Hydro Power GmbH
. From 1972, nearly parallel to the construction of the power plant group Malta with the Kölnbreinsperre, over a period of ten years systematically more than 400 printed graphics from the area Carinthia, Slovenia and Friuli Julisch Ventien were collected.
In addition, there is an INFOPOINT that gives you insights into the power plant group Malta Reisseck.
Airwalk at the Kölnbreinsperre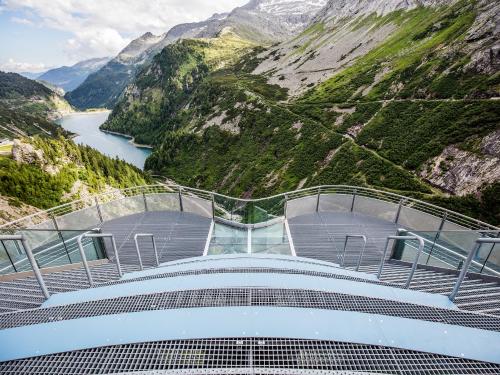 Dizziness dare on the Airwalk at the Kölnbreinsperre. They are rewarded with a breathtaking view from the glass platform to the mountain peaks all around.
Deep view into the "valley of the falling water"
Large seating areas in the middle of the platform invite you to linger, enjoy, admire and enhance the character of the modern design, which deliberately incorporates the guiding theme of the Maltatals - the "valley of the tumbling waters" - into its formal language. The curved atrium shape of the Airwalk allows many visitors to drop their own looks, thoughts and emotions.

In touch with the wall
The viewing platform also allows access to the outer shell of the wall (which is otherwise not possible), which archs over the heads of the visitors. These can attack the wall, imagine the enormous amounts of water behind them and feel the power of the structure.
Dam management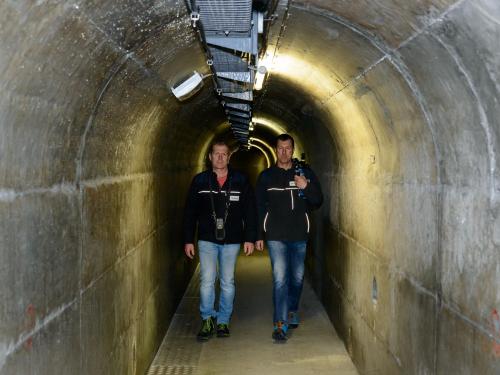 into the interior of the Kölnbreinsperre
Austria's highest dam wall can also be explored from the inside: Accompanied by a guide, you can see with your own eyes how electricity is generated from hydropower.
Supported by multimedia facilities, experienced dam makers explain how the water produces the "white gold" - the electric current.

The ongoing tours take about 1 hour.

Dam wall guidance : VIDEO

Facts and figures about: KÖLNBREINSPERRE